Commercial Roofing Maintenance & Restoration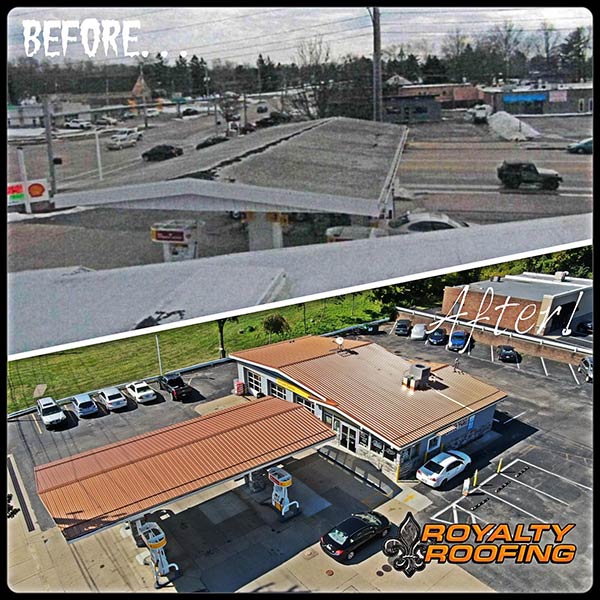 Royalty Roofing is a fully licensed, bonded and insured commercial roofing contractor providing comprehensive roofing services to local businesses in the Greater Cleveland area. We repair and replace flat roofs on commercial and industrial buildings of almost any size, from shopping centers, factories and schools to apartment complexes, hospitals and churches.
Our Local Commercial Roofing Services
Custom Roof Restoration Solutions: When you are experiencing problems with your commercial roof, repair and replacement are not your only options. We may be able to apply a new roof coating, for example, to waterproof your roof.
Annual Commercial Roof Inspections: What is the value of an annual preventive maintenance and repair maintenance contract? Professional roofing contractors, designers and manufacturers all agree that a yearly roof system inspection is recommended.
Architectural & Sheet Metal Fabrication: Royalty Roofing's experienced architectural sheet metal professionals have the design and technical skills to replace or repair a standing seam roof of any size.
About Our Commercial Roof Maintenance Program
A new roof is a large capital expense. To get the most value out of this investment, you need to maintain it. Careful maintenance of your commercial roofing system will identify issues before they become major problems. Manufacturer warranties require periodic maintenance with repairs, at the owner's expense, to maintain the warranty. Maintenance and inspections will increase the life expectancy of the roof system beyond the warranty period. Sign up for maintenance with our team today!
Contact Us Today to Book Your Free Inspection!
Whether your business needs a new roof or routine maintenance, Royalty Roofing is here to provide excellence in every aspect. For a free initial inspection, call us today at (330) 362-4700 or request service using the convenient contact form.